So if the 1st round of Copa America will be any indication, perhaps this tournament will be a little more wide open than anticipated.
In the opening game, Peru gets the party started beating 14-time champ Uruguay, 3-nil. Maybe not the biggest upset, but the convincing manner in which Peru played and Uruguay's failure to show up had to be a surprise.
Home country Venezuela meanwhile, squanders a fantastic performance from Giancarlo Maldonado, and gives Bolivia a late 2-2 draw. Haven't seen a status report on DC United's Jaime Moreno, who went limping off late, but Bolivia absolutely needs him against Uruguay today.
What was all this talk about Mexico falling apart after the Gold Cup final? There were numerous reports about inner-squad friction, and with injuries to guys like Andres Guardardo, reigning champs Brasil had to have been licking their chops. But Mexico completely shut down the revamped Brasil squad (no Dhino, no Kaka), and the goal by Nery Castillo was amazing.
In the other Group B game, Ecuador completely dominated Chile for most of the match. Then gave up 2 goals in the final 10, the last off a laser from Carlos Villanueva.
Paraquay 5-nil over Colombia. Colombia...thanks for coming (sorry, Carlos). Roque Santa Cruz gets the hat trick, and was probably the top performer of Round 1.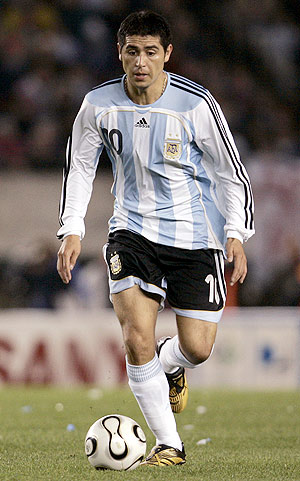 The young U.S. squad played a surprisingly great game for the 1st 70 minutes. The defensive back line completely suffocated and frustrated the likes of Messi and Riquelme the entire 1st half. If not for one lapse on the Riquelme free kick, in which my boy Crespo tied it at 1's, they could've easily had the lead going into half. Eddie Johnson was effective up front, but as expected, the U.S. missed the speed of Donovan and Beasley.
At 2-1, you could've made a case that it was the best game the U.S. may have hoped for. But after getting undressed for 2 more goals in the final 20, 1 of which was an exquisite delivery from Heinze's left foot and equally incredible header from Aimar (my personal "best goal" of the 1st round), the "moral victory" may have even gone out the window.
Sure...there were a lot of positives to be taken from the American side. But I still can't help but think we could've used more help up front to help counter on what was a tremendous defensive effort from Conrad, Demerit, Bornstein, and Wynne. With little offense to supplement, it just seemed like it was a matter of time before the skill of Argentina would shine.
Ray Hudson quote of the 1st round:
With Argentina / U.S. tied at 1 in the 70th minute, and the U.S. playing some suffocating defense, Argentina finally breaks through with the game winner off a beautiful build-up from their front line...
Hudson:
"It was a brilliant little goal that opened up the United States...so, it wasn't just a little piece of crap that they'd fallen to. It was tremendous genius by Riquelme and little Messi, and again, the dispatch by Crespo was fantastic."
Here's the hi-lites (the best I could find) from that Argentina / US match:
Group A
Peru 3 pts +3
Venezuela 1 pt 0
Bolivia 1 pt 0
Uruguay 0 pts -3
Group B
Mexico 3 pts +2
Chile 3 pts +1
Ecuador 0 pts -1
Brazil 0 pts -2
Group C
Paraguay 3 pts +5
Argentina 3 pts +3
U.S. 0 pts -3
Colombia 0 pts -5
A look ahead to Round 2, starting today:
From a United States perspective, you need to suck it up and root for your biggest rival Mexico on Sunday. While we've got a good shot at finishing ahead of Colombia with their monstrous 5 goal deficit, the U.S needs to be at least the 2nd best of the 3rd place finishers to advance. That means...we need Mexico to beat Ecuador. Ecuador has potential, making it to the final 16 of the World Cup last year, and they looked impressive against Chile on Wednesday. They dominated the entire match, but lacked a little killer instinct and simply fell apart at the end of the match. They not only squandered the apparent victory, but the 1 point draw as well. And with Brazil on tap in round 3, they've gotta get a win vs. Mexico if they hope to move on.
With a minus 3 goal differential, the U.S. can not afford any more moral victories. With 1 point against Paraguay Monday, they could still advance with a win over Colombia. However, with 3 points on Monday, and Argentina yet to face Paraguay, the U.S. could potentially be looking at a 2nd place finish.
Meanwhile, look for Brasil to get on track against Chile, and climb outta the Group B cellar. And I've got no clue what to expect from Uruguay. Bolivia played inspiring football to the end against the home team Venezuela, so this match may be closer than some think. With a Peru win over Venezuela, they'd have a stranglehold on Group A.